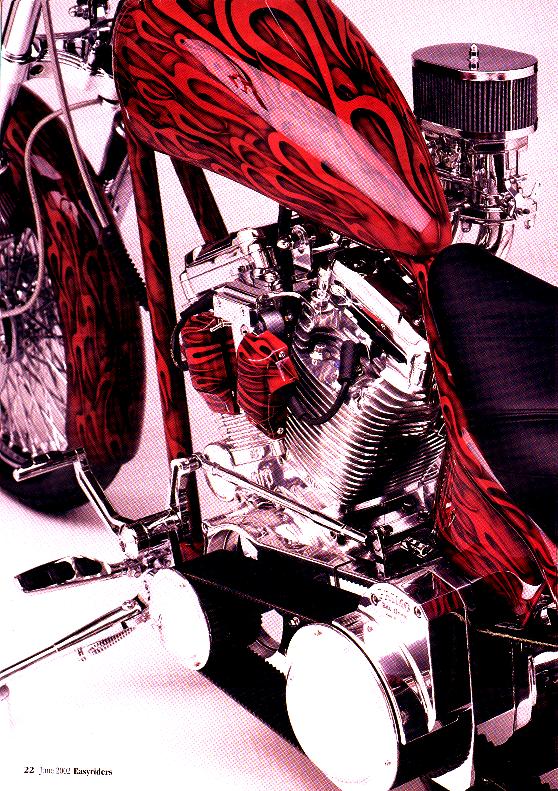 ~ Photos by Michael Lichter
---
Article copied with permission of Easyriders™ magazine...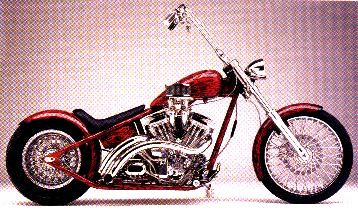 It's all in the art of the fight. Get your licks in when you can and don't let 'em hit you back. That's the logic used to build all of Jeff Hill's customs.

From that thought process comes this heavy hitter that is so hot that the flames of hell are licking the tanks and fenders. High octane presence comes from the open belt drive and a 120 cubic inch Merch motor, fed by dual downdraft 48mm Webber carbs. It's the sweet music from those Hellbent pipes and that old-school stance that makes everybody want to dance. Put up your dukes and step into the squared circle. In this corner, weighing in at 625 pounds, is the Hill's Performance hardtail, "Lick Me".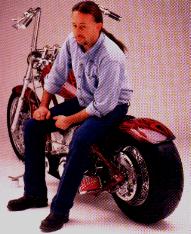 Jeff gave that nickname to his rigid 90-day wonder as an open invitation to all competition. Motorcycles are a lifelong labor of love for him. Jeff's first custom project was a '75 FLH that he scratch-built one piece at a time back in 1981 for the purpose of some intensified on-the-job training. Chrome won't get you home, but performance will always persevere.

Bike show competition has heated up to the inferno level. This 2001 rigid framed custom has the right punches to serve a TKO at any show. It placed second in the Best Street Custom class at our Easyriders Bike Show in Louisville last year. That's what we call getting your licks in, especially when you consider what happened on the way to the show. The slick roads and bad weather combined with a speed of 70 mph to lift the trailer and truck just enough to get into sideways slide down Interstate 69. The airborne rig finally landed, heading up an onramp with a giant dent in the side of the truck, and an even bigger dent in the trailer. After prying the trailer open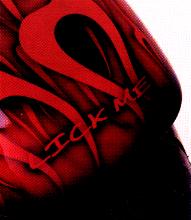 and fearing the worst, the bike stood without a single scratch. It seemed as if Lick Me had already won Round 1, even though it had not yet entered the ring.

Strategically located between Toledo, Ohio and Fort Wayne, Indiana, Jeff Hill has a bursting-at-the-seams bike shop called Hill's Performance. Since 1992, they've proven that they can do anything with anything, and have earned bragging rights as the biggest industry in Ney, Ohio. Jeff takes orders year round for virtually any kind of bike and can hook you up with whatever you wish for. From mild upgrades, to antique restoration services, to complete ground up custom concepts and show bikes. Hill's Performance does it all in their very capable five-man shop. Jeff's business was built by word of mouth and with the help of many friends they've made in the past ten years. Business is good in the one-stoplight town of Ney. In our economically sensitive times, who would believe that building streetfighter custom bikes would be a booming enterprise? Hill's Performance has the knockout combination to build your next winner. Check 'em out on their web site at www.hillsperformance.com.
Article written by Mr. Jeff Moore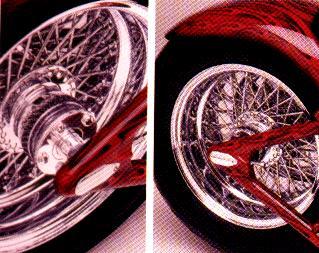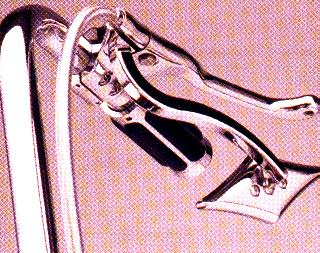 ~ Photos by Michael Lichter
Magazine pictures & article is courtesy of Easyriders™ Magazine
© 2002 Copyright - Hill's Performance