Children Of The Corn
Fresh from Hill's Performance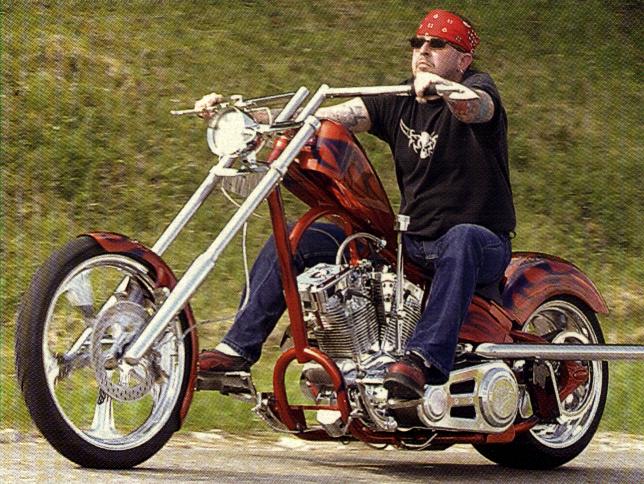 In this day of over-hyped bike builders with attitudes to match, it is refreshing to find a builder like Jeff Hill of Hill's Performance. Located in Ney, Ohio, a "don't blink," one stoplight town in the middle of a cornfield, Hill's literally has bikes coming out their ears. While others are busy polishing their images, Jeff is concentrating on just building bikes. He doesn't much care what configuration, just, "if there is a will there is a way...you dream it, we build it."
If you aren't exactly sure what you want, don't worry, Jeff is there to hold your hand and guide your choices. It doesn't matter to him if you want to customize a stock bike, restore an antique, or build one from the ground up, what Jeff says he enjoys most, is doing something he's never done before.
Jeff and his crew started building bikes for others in the early '80s, and in 1992 he finally was able to fulfill his dream of flying solo. The business has been building steadily ever since. The exposure from showing his bikes in the Easyriders Bike show in Columbus, Ohio, as well as at the Sturgis Rally and Races hasn't hurt business a bit.
While Jeff will build you a bike out of a box if you want, this custom creation is from the completely opposite end of the spectrum. It all started with a Rolling Thunder frame, to which they cut out the stock gussetts and added their own sweeping, curved loop to the top of the frame. The welded on bracket for the exhaust also incorporates the taillight, and is made of channel steel, so all the taillight wiring is completely hidden, as it is on the rest of the bike.
Some of the hand-built accessories made by Hill's include the left-side hydraulic clutch lever to operate the Performance Machine master cylinder, and a chrome cover and gauge mount for the Legend Air Suspension compressor. They modified the Rolling Thunder oil bag to conform to their handmade exhaust system and completely revamped the Kennedy's gas tank, flush mounting the cap. Russ Wernimont's fenders were shaped to complement the bike. They also fabricated the kickstand and the seat plate, which they handed over to master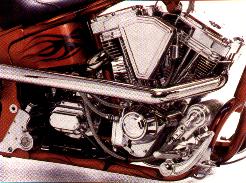 seat-maker Danny Gray to build a comfortable yet minimal seat.
The 113-inch S&S motor was built entirely in their shop, with a few choice items like an Andrews cam and JIMS tappets added to further improve the solid performer. The motor was completely polished before assembly for a mirror shine. It sports an S&S Super G carb and the Doherty Machine PowerVent kit for positive breathing. The handmade, right and left side exhaust is distinctive in both its design and note when the bike is blasting down the road.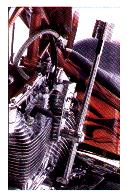 The 5-speed jockey shifter was also made by Hill's. They built a chrome box off the Jim Nasi top motor mount to cleanly house a tiny Nology coil. The belt drive is a 3 1/2 inch Primo unit utilizing the Brute 5 clutch. A custom side-cover for the belt drive was made by Solitek with Hill's logo milled into the cover. A front end by Perse Performance and wheels and brakes by Performance Machine complete the package.
The molding and exquisite paintjob started with a gold basecoat applied by Tracey Grime, with the House of Kolor tangerine and purple intertwining flames with red pin-striping expertly laid down by Delbert Densmore located in Defiance, Ohio. He has been "tearing it up" for over 30 years and he has a web site where you can check out his work: www.delbertdidit.com
As we mentioned at the start of this piece, Hill's is located way out in the northwest corner of Ohio, between Toledo and Ft. Wayne, Indiana. While they do service and repair work like most shops, their main thing is complete custom bikes. Unlike a lot of builders heavy on "attitude", they don't go in for all that "balderdash, baloney, bull, bunkum, crap, and hooey," because as Jeff says, "I'm too busy building bikes, and thats the way we want to stay." If Jeff sounds like your kind of builder, give him a call at 419-658-2658 or visit him at www.hillsperformance.com . -- Kit Maira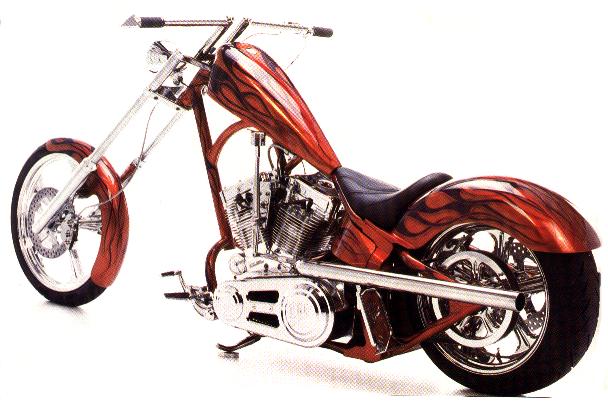 * All photos are by Michael Farabaugh
---
---
---
Here is our second article from the same January issue of V-Twin™
Low Blow, What fate hath wrought...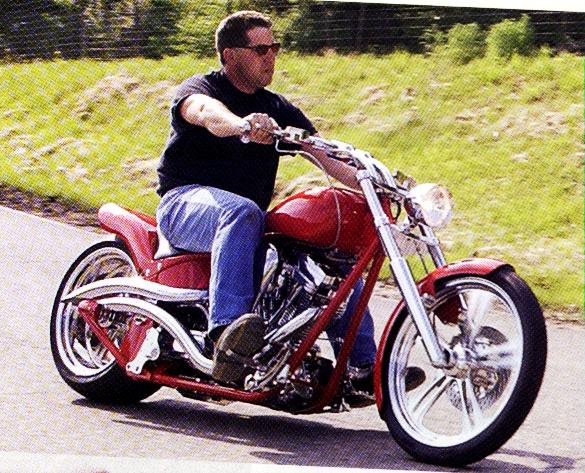 Doug Flagel always wanted a V-twin cruiser. After his kids got older, timing and finances began to gel. Doug bought a new Harley Davidson and was showing it to one of his friends who was an experienced rider. After receiving some riding tips, Doug suggested that his friend try it out for himself. In the next instant, Doug's friend crashed his new bike. This bike was Doug's for barely more than 24 hours and was reduced to heap of totaled, yet genuine metal, incapable of even the most involuntary twitch.
Doug's friend was alright, aside from being all shook up, and offered Doug a suggestion to take the bike (or at least what was left of it) to Jeff Hill at Hill's Performance in nearby Ney, Ohio. As he heard Doug's tale of woe, Jeff was really feeling it, and decided to take on the project. He called it "Low Blow."
Extracting the motor and transmission, Jeff busted them down and sent the cases out to Brown's and Kohl Polishing while he worked some boost magic by getting a set of Edelbrock heads, S&S carb, and Andrews cam. Doug likes a bike that is clean and flowing, not overly ornate. The Viper red House of Kolor paint was shot by Delbert Densmore and Tracy Graham, and it was exactly what he had in mind. Jeff tells us that Doug started out as a customer and ended up as a friend.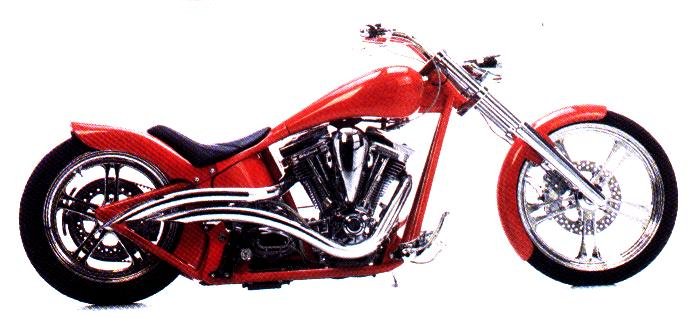 There are a load of special goodies on Doug's bike, like those Dakota Digital gauges in custom bar mounts that sort of resemble John Lennon's sun glasses. There is also a handmade compressor cover and mounting bracket, top motor mount, coil cover, the sheet metal, and tons more. Jeff said, "It wasn't about making money, it was about making the coolest bike for Doug that we could."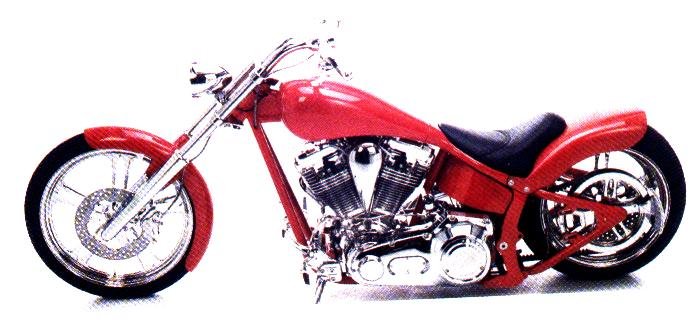 The Legend Air Suspension system lets Doug keep his Low Blow bike in the weeds, and that is part of why Jeff gave it that name.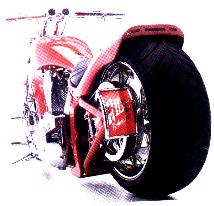 Living in the corner of the three states of Michigan, Indiana and Ohio. Doug likes to take time away from his job as a professional driver when he can find some perfect riding weather and take in some of the scenic sights around the lakes. Doug actually enjoys cleaning his bike, but just like everybody else, he would much rather be riding - finally, Riding a better bike that he ever thought he would, because of that fateful day when he was dealt his Low Blow.
-- Jeff Moore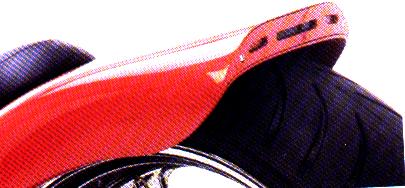 * All photos are by Michael Farabaugh